Boy I am really tired this morning. I suppose it doesn't help that I got up at what my body thinks is 5 am again which hurts on its own. Beyond that I spent all day yesterday helping rip out the rest of the walls in my parents bathroom, and the vanity and the toilet tank and taking all that trash out to the truck then driving it to the dump with Dad. Sounds like fun right? It was fun, but it was also hard physical labor. We still aren't done, the toilet needs to go, but not yet (we are flushing it with buckets of water, and the tub needs to go but it is cast iron and SUPER heavy so we aren't sure how we are getting it out just yet!! Sad part is we aren't going to get it done before I leave to go back to CA on Monday so I am putting in all this work and I won't get to use this bathroom for probably almost a year.
Here is a picture of Dad sweeping up the dust from all the tear-down, this isn't from the end of the day since the vanity is still there.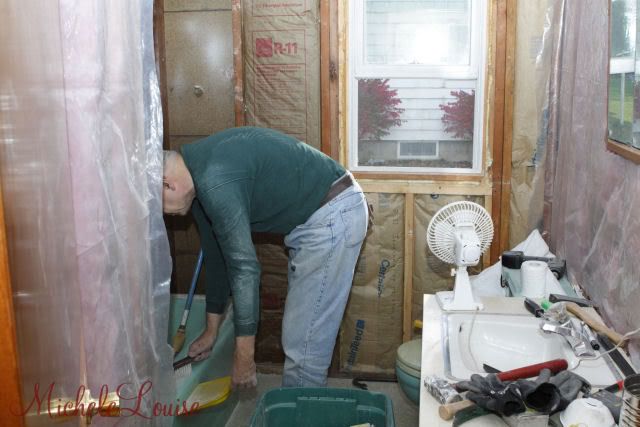 Pretty messy looking huh?