Since the profile thing has such a limited amount of space I am going to put my old about me section from my website in a post! Brilliant!
I was born in Upstate NY, which is to say not a suburb of NYC. There is more to the state than just the city! I grew up in a small town called Apalachin. A town who's entire claim to fame is a mafia meeting that took place there in 1957. Well before I was born by the way! We lived in the same house my entire life, Mom, Dad, my older sister Valerie and myself. Our pets were always cats. The orange one in the picture with me on the red couch was named Buster. Buster and Sunny are the two cats I remember most from growing up. When I was almost done with high school a pregnant stray cat, now named Kit-Kat, adopted our family and gave my parents their current cats. Mocha Delight (I named her) and Mr.Goodbar (named by my sister, though that cat turned out to also be female). My sister also has two cats, the aforementioned Kit-Kat and another named George.
I had a very quiet nice childhood. My favorite things to do were read (which I still do too much of) and ride horses (which I also still do when I can afford it!). I graduated from the Owego-Apalachin School District in 1996. And went on to Penn State to study Chemical Engineering. I graduated from PSU in 2001. I took time off to co-op at The NIH and at Biokinetics. After graduation I returned to Philadelphia to work for Biokinetics.
As of May 2005 I left ALB and started a new job in The Bay Area. As in California. A pretty big move for a girl like me who lived in the same house, in fact the same room until she left for college, and my parents still live in that house. I now work at an actual manufacturing facility which is something I have always wanted to do. Finally I am getting some hands-on experience. Plus it is a great company. An AMAZING company.
Another great thing about this move to CA is that Michael moved out here too. Michael and I have a long and complicated history that started in high school. Yup one of those! Though he and I might have met at a much younger age. His mom was my preschool teacher. He went to Clarkson University, where he got his B.S. in Civil Engineering and then on to Virginia Tech to get his M.S. in Geotechnical Civil Engineering. Since we moved to CA he got his PE, and is trying to find a band that he can play bass in.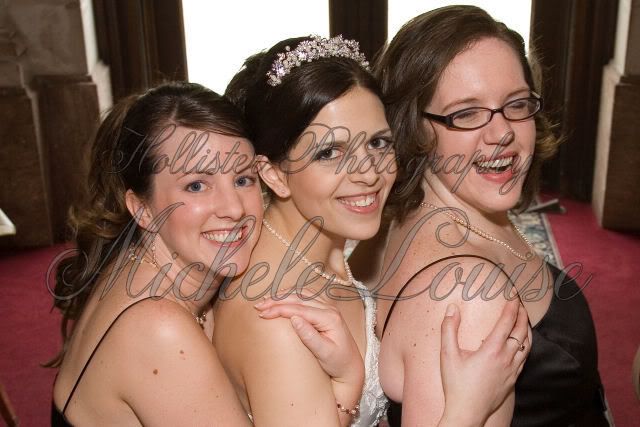 My best friends are both named Rebecca. Law Student Rebecca. and I met in middle school and weren't friends at first. Then a snowstorm on the day of her birthday party (and everyone else going home) gave us a chance to really get to know each other. We have been best friends ever since. She now lives in Minneapolis, and we only get to see each other once or twice a year. Pharmacist Rebecca doesn't have a blog, silly girl, lives back in Upstate NY near where we grew up and also married her high school sweetheart. She was in my kindergarten class though we didn't get to be really great friends until about middle school as well. We thought we were really smart in high school to write notes to each other in French, and our French teacher used to call us "The Sunshine Twins" because we were always so cheerful, and so much alike.
Personality
I was born in July and I think I am a typical Cancer.
Good traits: Emotional and loving, Intuitive and imaginative, Shrewd and cautious, Protective and sympathetic.
Not so good Traits: Changeable and moody, Overemotional and touchy, Clinging and unable to let go.


Likes
To Do:
Read. Especially Diana Gabaldon Novels and other historical fiction. Ride horses, jumping is one of my favorite things to do. Work out, I am attempting to take up running, and pilates. Sleep (can never get enough of that). Organize (I am having an intense affair with my label maker!) and clean! Play The Sims. Collect smushed pennies. Visit historic homes. Bake, I go overboard at the holidays.

Movies:
Gone With The Wind, Last of the Mohicans, The Others, Bridget Jones, Elizabeth, Heathers.

To Eat:
CHOCOLATE (which I try to keep to a reasonable amount), fruit (especially granny smith apples, nectarines, cantaloupe, peaches, raspberries, strawberries, grapes, oranges), ice cream (french vanilla with M&Ms), cupcakes (especially mine!), cookies, chicken, couscous, soft pretzels, cheesesteaks (YUMMY!), pizza, cranberry juice and grey goose vodka, FUDGE.

To Shop:
Aldo
,
Ann Taylor Loft
,
Arden B.
,
Banana Republic
,
DSW Shoewarehouse
,
Nine West
,
Organized Living
,
Old Navy
,
Target
,
Victoria's Secret
.