I ordered my big Christmas gift last night.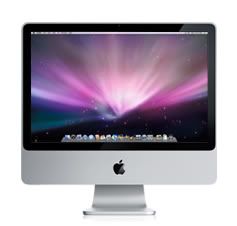 With the following configuration:
Processor 065-6838 2.4GHz Intel Core 2 Duo
Memory 065-6828 2GB 667 DDR2 SDRAM - 2x1GB

Hard Drive

065-6842 750GB Serial ATA Drive
Optical Drive 065-6843 SuperDrive 8X(DVD+R DL/DVD+RW)
Modem 065-6633 NO MODEM
Mouse from AOS 065-7551

Apple wireless

Mighty Mouse
MAC OS Language 065-6954 WL KYBRD &

MAC OS X

KIT
I am a little nervous about it, I have never owned a Mac before (though I have used them when I did one of my co-ops I had a raspberry imac). I don't get to use it until the 25th though! Cross your fingers that the HP laptop survives that long!!